Introduction
InvestXE appeals to seasoned traders and investors with its excellent resources, tools, personal relationship manager assistance, and in-house analyst services, while beginner traders will appreciate its educational materials, 24/7 customer support, and various other services. With different mobile apps for every operating system, Web Trader Platform, and MarketPro 1.0 platform, InvestXE offers a solid online trading experience. Whether you are a new trader looking to try your hand at trading or an experienced one having years of experience under your belt, it has something to offer.
With stable and fast trading platforms – iPhone trading app, android trading app, tablet trading app, Web Trader, and MarketPro 1.0 – InvestXE lets you trade over 16000 assets under a single roof. Combined with the educational materials that you can easily access, InvestXE is an outstanding online trading house for developing the trading skills that you need to analyze the risks associated with your trading methods. Let us look at how InvestXE stacks up against all its rivals to assist you in deciding whether or not it's the right choice for your trading and investing needs.
Range of Accounts
InvestXE excels when it comes to its different account types. It has something in the box for everyone, whether you are a new trader, an intermediate level investor, or an active one. Moreover, opening an account with InvestXE is a simple, stress-free process. No matter which accounts you choose to trade using, you will get the opportunity to trade-in over 16000 assets with all of them. Rollover to find out the different accounts InvestXE offers for its users in this InvestXE review: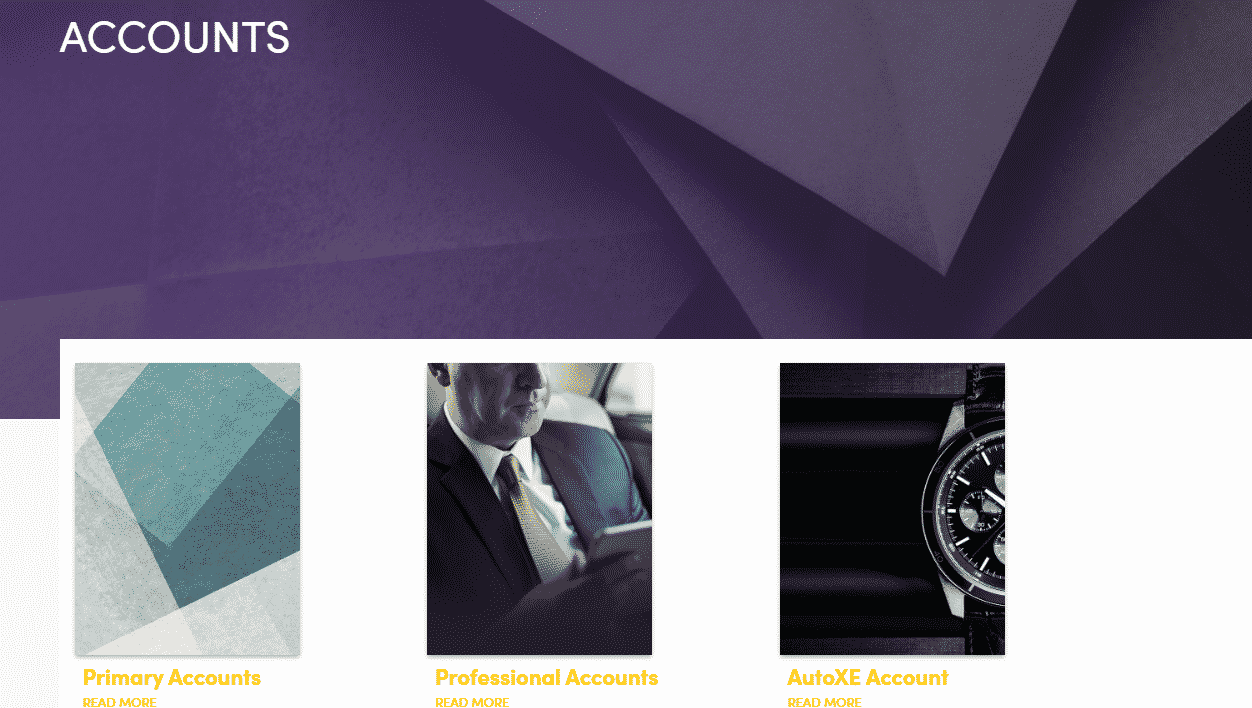 1. Primary Accounts:
The first type of InvestXE account is the Primary Account. With this account, you can learn while you trade and be one of the best traders out there with the help of the training, webinars, and courses offered. Gain the trading knowledge, skills, and expertise needed to become a successful trader. Primary Accounts is available in three tiers:
Standard Account: If you are not much familiar with trading or are new to it, then sign up for a Standard Account at InvestXE. Get the benefit of trading multiple assets and know the markets. Being a user of this account, you will also get to know the techniques and information to make smart trading decisions and large profits. And you get all this for as little as BTC equivalent to $500.
Progression Account:Progression Account under the Primary Accounts section is a beginner-friendly account that provides you the trading tools to become a professional trader. Make successful trades independently using these tools. You also get a chance to educate yourself and become a trading insider. Besides expert trading tips and hints and multiple tradable assets, you also get access to its flagship platform MarketPro 1.0, elite webinar library, informative content, and Trading School for 90 days. Deposit BTC equal in value to $5000 and get instant access to all these features.
Advanced Account:The top tier account under the Primary Accounts section is the Advanced Account. It can help you become an elite trader by using its trading tools. It is the most preferred Primary Account because of obvious reasons. With this account, you can also get the technical guidance you need to make successful trades again and again. You can rest assured to get 24/7 support from the experts during your trades. Along with all the features you get with a Progression Account, you can benefit more by getting 180 days membership to its trading school. And guess what, all this comes by depositing BTC equivalent to $25000 only.
2. Professional Accounts:
If you are an active, professional trader looking for updated information, customized insights, tightest spreads, and intuitive trading tools, then you should open a Professional Account with InvestXE. With an InvestXE professional account, you can reap the benefits of the markets to make lucrative trades. Professional account type at InvestXE are available under two tiers:
Gold Account:Gold Account under Professional Accounts at InvestXE offers elite services for the top traders. It gives you the capability and the tools to make the best trades. It is a feature-rich account that is supported by the trading specialists as well. It not only gives you unlimited support from its experts 24/7, but it also gives you membership to its webinar library, access to MarketPro 1.0. You can also benefit from tight leverage of up to 300:1, trading signals sent to your phone, direct hotline to its trading war room, live trading review sessions with its analysts, and more. To open this account with InvestXE, you need to deposit BTC equivalent to $75000.
Platinum Account: It is the best Professional Account for those real traders. It's your ticket to trading success. From advanced tools to various trading resources and dedicated support, it offers everything that you need to become a top trader. Sign up for this account to reach the top by depositing BTC of value equal to $150000. It comes with the best spreads that are up to 5 percent lower than what you get with the Gold Account. It also grants you access to its VIP rooms along with personalized trading sessions, a hotline to its war room, and 24/7 unlimited support from its trading professionals. Trading signals are sent on your phone, and you get the ability to discuss trading with its analysts. You also get access to its elite webinar library and MarketPro 1.0. What more can you accept from a top tier account like this.
3. AutoXE Accounts:
Traders who wish to trade easily can choose to sign up for InvestXE's AutoXE account. This account lets you run automated trading strategies in your brokerage account. To work on this account, you need to link your brokerage account with this account. Top traders run their trading strategies on the InvestXE platform. InvestXE analysts keep a watch on their performance and pick apart the best trading strategies for their users. Users can then choose as many trading strategies as they want to run in their account. Fund your account and start making automated trades within the parameters that you set.
Range of Offerings
InvestXE clients are expected to focus on cryptocurrencies, soft commodities, precious metals, currency options, and energy commodities. Under these instruments, users of InvestXE can trade more than 16000 assets, and that is far more than what other brokers and online trading platforms offer you in terms of tradable assets.
Precious Metals:Precious metals have produced interest for ages. You can mine great wealth by trading precious metals. Even in the volatile global investment markets, precious metals trading offers a semblance of assurance. InvestXE lets you trade different precious metals, including silver, palladium, gold, and platinum. Their rates do witness temporary changes, but their intrinsic worth never diminishes. Trading these precious metals is an excellent method to avert risk and diversify portfolios.
Soft Commodities: Soft commodities consist of perishables like coffee, cocoa, sugar, soybeans, and cotton, which are among the oldest tradable commodities around to date. Since soft commodities can be shorted, it gives traders greater flexibility. It lets hedgers protect their positions, and risk-takers take positions depending on the expectations of the market. InvestXE offers you many strategies and options so that you can benefit from this market.
Energy Commodities: For new and seasoned traders interested in Energy commodities trading, InvestXE offers both renewables and non-renewables trading. InvestXE also provides many benefits and additional services to assist you in getting started with energy commodities trading. Professional customer services and superior risk management tools help you make profitable trades. The experts at InvestXE are always there to help you with any of your trading-related questions and queries.
Cryptocurrencies: The crypto world has quickly become popular among traders. Both experienced and new traders are attracted to trading cryptocurrencies. You can be the next one to take benefit of this market by trading cryptocurrencies with InvestXE. The platform can let you trade cryptos even if you don't own them. Choose the best trading trends of the crypto markets using the front-line tools of InvestXE.
Currency Options: Trading currency options can be difficult and stressful. You need unlimited patience and outstanding trading skills. Despite these challenges, trading currency options is a rewarding venture. To trade currency options, you should be familiar with the world's economy along with the mindset of major sellers and buyers. InvestXE helps you with all this when it comes to currency options trading. Its currency options related to educational courses and insights are second to none. Along with this, you also get the benefit of 24/7 available trading facilities, access to many maturity ranges, competitive prices, 24/7 support from the experts, real-time currency options market analysis, and access from any device such as Android, iOS, PC, or tablet.
Services
When it comes to additional services, InvestXE does not fall behind. It offers every kind of service that you may need to make successful trades on the go.
Dedicated Sales Traders: No matter which market or instrument you decide to trade in, it can be complex and confusing in the beginning. This is where a dedicated sales trader at InvestXE can help. They can handle all the trading world's complexities on your behalf, like admin, sales, funding, and more. They have years of experience under their belt and thus, can help you make better trades and save yourself from stress.
Personal Relationship Managers: Power up your trading plan with the help of a personal relationship manager at InvestXE. They can help you with all the facets of trading. Whether you are facing issues with the technical jargon or want to save yourself from the common traps of the trading world, a relationship manager can stay in continuous communication with you through email, chat, or phone. They can also arrange a personal meeting.
Personal Trading Courses: Arm yourself with the knowledge and expertise of the trading markets with the help of a trading course at InvestXE. Get to know everything that only the industry veterans know. With customized training, you can get the market's working insights so that you understand the trading complexities.
In-House Analysts: The in-house analysts at InvestXE are trading masters. They can offer you secrets to become the industry insiders, offer insightful advice, and help avoid the pitfalls of the market. Make your trading journey simple by enlisting the help of an in-house analyst.
Education
The focus of InvestXE educational content is to help its clients set their trading and investing goals and then find out how you can reach them. The educational offerings come as educational courses, online trading courses, and personal trading coaches.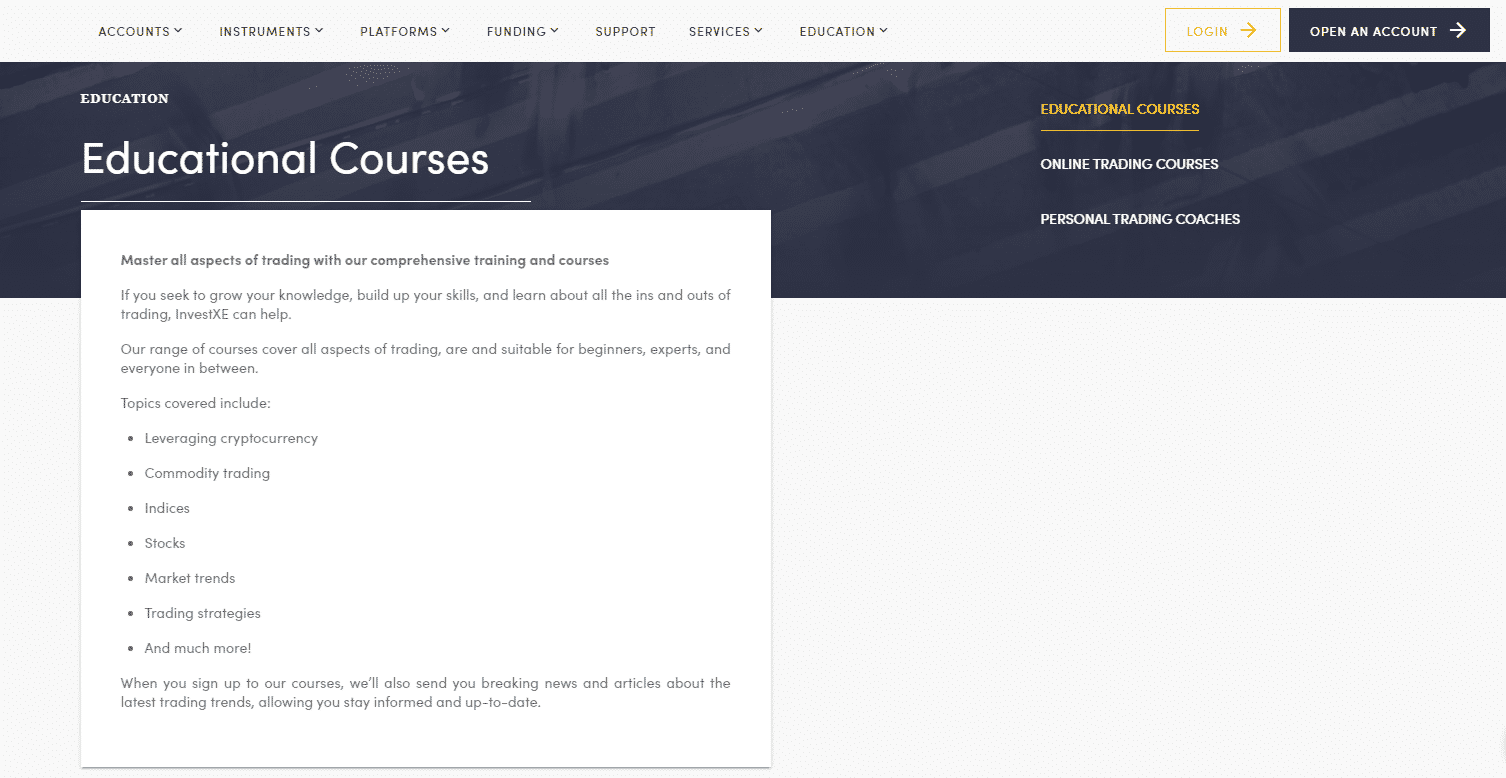 Educational Courses: Whether you wish to build up your trading skills or boost your knowledge, InvestXE is there to help. Its various courses can teach you the ins and outs of trading. These courses cover topics like stocks, indices, commodity trading, trading strategies, trends of the market, crypto leveraging, and more.
Personal Trading Coaches: Nothing can be compared to individualized mentorship. Personalized mentorship from InvestXE personal trading coaches can boost your knowledge and skills. You can easily benefit from putting up questions, learning from these success records, and requesting their help when needed. They can guide you towards success.
Online Trading Courses: The online trading courses at InvestXE are more focused. Thus, they offer information on specific aspects of trading. If you do not have enough time, you can take these flexible courses at a time convenient for you. From engaging webinars to trading strategies to virtual learning, they offer all.
Platforms For Trading
You can trade on InvestXE using a platform of your choice. It offers five different platform types to carry out your trades. They include:
Android Trading App: Equip yourself with modern features and an intuitive interface to make trading simple. Minimize risks and capitalize on your gains using the Android trading app of InvestXE. This platform lets you trade anytime, anywhere with the best tools and functions. From support to notifications, you will get everything you need to make profitable trades.
iOS Trader: If you have an iOS device and want to invest your money and time in trading, then try the iOS Trader of InvestXE. It is one of the best platforms offered by InvestXE to help you make the most of every trading opportunity. Get multiple trading options with an intuitive interface that no other trading platform can offer.
Tablet Trader: No make trades at your own pace and convenience with InvestXE Tablet Trader. Get live pricing and real-time market data with this app. It also grants you access to the latest market trends.
Web Trader: Web Trader is an innovative platform designed with beginners in mind. Its flexibility makes it widely popular. Get the knowledge and skills of a professional trader by using it. It comes with a learning curve too. Access Web Trader through any browser or device and get features like historical trading data, trends of various instruments, trending assets, efficient risk management, multi-charting windows, and 2-factor authentication.
MarketPro 1.0: MarketPro 1.0 is the flagship platform of InvestXE. It not only offers you incredible trading opportunities but also comes with high-class technologies. You get many free and paid features to access using this platform. Some of them include immediate access to strategists, currency options VPS, copy trading features, technical indicators, artificial intelligence-driven bots, and more.
Customer Support
InvestXE offers incredible customer support for all its users. It provides its services to more than 170 countries and has separate customer support for each country. The customer support of InvestXE is prompt to answer your questions and resolve your queries. You can contact InvestXE customer support in one of the following ways:
Email Support: InvestXE offers quick support through email. Whether you have a general trading related query, a compliance issue, or want to get in touch with the analyst desk or trading desk, InvestXE has a different email address for each:
Support: cs@investxe.com
Compliance: compliance@investxe.com
Analyst Desk: analystdesk@investxe.com
Trading Desk: tradingdesk@investxe.com
Phone Support: Nothing can be faster and better than phone customer support. So, InvestXE has ensured to add phone support as well in its support methods. Regardless of your question or query, you can get instant help from InvestXE experts via phone. There is a different contact number for every country. Enter your country code and find it.
WhatsApp Support: WhatsApp has become one of the most-liked messaging apps around the world. You can contact InvestXE directly via WhatsApp to get instant assistance within minutes. Whether you need technical support or have a query related to trading, a dedicated support agent will be there to help you always via WhatsApp.
Telegram Support: Unlike others, InvestXE has included Telegram also in its support as most people around the world use it as a messaging app. You can get a quick response to your questions or queries using this support method. InvestXE support team is always on standby via Telegram.
Verdict
Whether you are a newbie or an active trader, trading with InvestXE is worth your time and efforts. Even for those who want to learn on the go while trading, InvestXE is the best fit. Once you are on this trading platform, InvestXE has put lots of thought and development to keep you there. The different account types offered by InvestXE for every level of trader make this trading house perfect for everyone.
FAQs
1. What is the minimum deposit to open an account with InvestXE?
Ans. To open an account with InvestXE, you need to make a minimum deposit of BTC equal in value to $500. With this deposit, you can open a Standard Account under the Primary Accounts with InvestXE.
2. How Can I Contact InvestXE?
Ans. You may contact InvestXE in one of the many ways:
Email
Phone
WhatsApp
Telegram
3. What Instruments Can I Trade With InvestXE?
Ans. You can trade soft commodities, energy commodities, precious metals, currency options, and cryptocurrencies with InvestXE.