Coinbase vs. Gemini: Which is Better?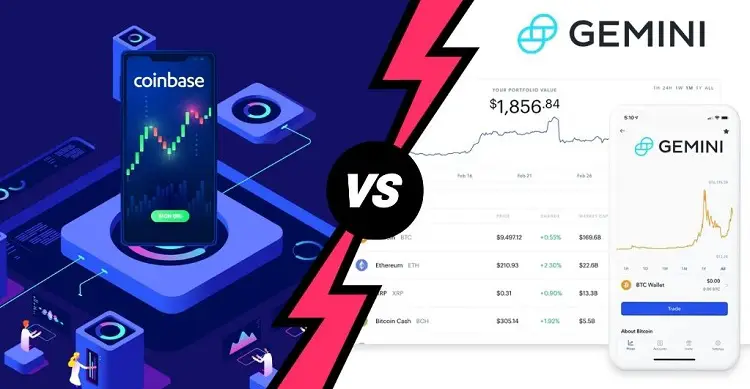 Crypto exchanges are marketplaces where investors and traders can buy, sell, or store their digital currencies to make a profit. Although there are several crypto exchanges, Coinbase and Gemini reserve a special place among the crypto community.
Both started in the US within a time frame of two years with a similar approach of making crypto trading simple, secure, and convenient. In this guide, we will get to know which exchange is better based on different metrics.
Coinbase
Coinbase is one of the most well-known cryptocurrency exchanges, launched in 2012 by Brian Armstrong. It serves over 35 million crypto users in more than 100 countries with its limited yet leading crypto assets offerings. Besides trading, the platform allows buying virtual currencies with fiat currencies (USD, Euro, and GBP).
The crypto exchange features two platforms for sophisticated trading – the broker crypto platform Coinbase for beginners and the GDAX platform Coinbase Pro for seasoned traders. Money-making with Coinbase is also possible through staking, the Coinbase Earn program, and referrals.
Gemini
The arch-rival of Coinbase, Gemini entered the crypto trading scene in 2014 as the forward-thinking idea of Cameron Winklevoss and Tyler Winklevoss. It has relatively fewer active users than Coinbase due to its limited international presence. Furthermore, around 20 crypto and altcoins are available for trading, while buying is restricted to Bitcoin and Ethereum with US Dollars only.
The platform also offers the Gemini Earn program, allowing users to earn interest over their crypto holdings. As a regulated custodian, Gemini meets the demands of high-frequency traders.
Coinbase vs. Gemini – Comparison
Security:

Coinbase takes extraordinary security measures to protect user credentials and funds. New York's BitLicense, cold storage, crypto-asset insurance, two-factor authentication, AES-256 encrypted digital wallet, private keys, and SSL-encrypted website are to name a few. 
Gemini is overseen by the New York State Department of Financial Services. Its standard security measures include BitLicense, cold storage, two-factor authentication, and regular financial and security audits. 
Custody:

Coinbase Custody securely stores the user assets in segregated offline cold storage. Besides, it charges a 0.5% annualized custody fee and requires the user to have a minimum asset balance of one million dollars to avail of the service.
The minimum asset balance required for Gemini's custody service is the same as Coinbase, except for the annualized custody fee of 0.4%. Moreover, the assets stored in cold storage are secured by multi-signature technology.
Fees:

The entry-level fee at Coinbase starts with 0.5% that tends to decline with increasing monthly trading volume. In addition to the spread, Coinbase charges a flat fee for trade below $200 or a variable transaction percentage fee depending on the region and payment method.
Fees at Gemini also vary with payment types, trading volume, and trading platforms. Typically, it charges a fixed convenience fee of 0.5%, a flat fee of 0.99% for trade below $200 and 1.49% for above $200, and 0.35% fees for Gemini ActiveTrader users.
Liquidity:

Generally, crypto-to-fiat pairs trade higher than crypto-to-crypto pairs at Coinbase. With BTC/USD and ETH/USD making half of its liquidity, Coinbase ranks among the top three

crypto exchanges

in terms of the trading volume.
Gemini has less liquidity due to the lesser coin offering, trade pair against US dollar only, and minimal regional presence. Its BTC/USD pair accounts for half of the trading volume at the platform.
User Experience:

Coinbase's user-friendly interface, easy-to-navigate trading features, and tools give new traders a seamless trading experience. Advanced traders will have the same experience with Coinbase Pro.
Gemini is well-suited for professional traders, making great use of multiple trading functionalities like charting and buy and sell limits. 
Customer Service:

Both Coinbase and Gemini have dedicated customer support that can be reached via email and over the phone 24/7.
Final Thought
Coinbase and Gemini rule the market in their ways. Regular traders can benefit from advanced trading features, top-notch security, lower fees at Gemini, while new traders can benefit from higher liquidity, cold, and insured asset storage at Coinbase. When comparing the two after looking at the review by CryptoNewsZ, Coinbase seems to have the upper hand over Gemini.