Trump Speech: Asian Shares Subdued, Aussie Dollar Falls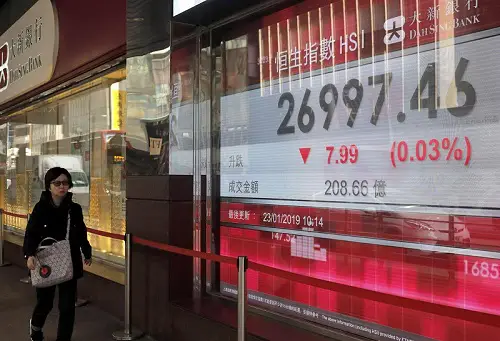 The US President Donald Trump's speech at the State of the Union failed to give any fresh trading catalysts to the market due to which the Asian shares ended on a subdued note, and the Australian dollar saw a slump after the Central Bank's possibility of a rate cut.
With the markets around China and several markets closed for Lunar New Year Holiday, the MSCI's broadest index of Asia-Pacific shares did not move much outside Japan. While Nikkei gained by 0.3%. In the other markets, Dow ended with a rise of 0.68%, Nasdaq increased by 0.74 %, and S&P 500 gained by 0.47%. The treasury bonds also increased due to the US data showing US service sector index of 56.7. The US dollar held firm and ended at 96.104 above last week's 95.162. However, it fell short by 0.1% compared to yen. So, major wealth management companies will look after that and manage their investment according to it.
What was said in Trump's State of the Union Speech?
Trump in his Tuesday speech vowed to build the border wall in the Mexican border and said that the Democratic attempts at 'ridiculous partisan investigations' could potentially dent US prosperity. Moreover, there was no mention of any real progress made between China and the US in the trade negotiations which did not help the investors in any way. COO at Rakuten Securities, Sydney said that 'The market had much more hopes that he would come up with something concrete. We didn't get it'.
There is another round of negotiations and trade talk that is likely to start in Beijing next week to look for a deal on averting the increase in taxes on Chinese products by the United States and also look for a deal on the American IP row. The talks are to be held before the Mar' 2 deadlines. There is also reports that the talks will be headed by Steve Mnuchin who is the Treasury Secretary and by Robert Lightizer who is the US Trade Representative. 
Why Aus Dollar slumped?
The Australian shares rose by 0.5%, but the Australian dollar fell by 1% to reach its one-week low of $0.7153 after the Reserve Bank Of Australia said that there might be rate cuts if unemployment increases and inflation is low though the bank is optimistic about the economic growth. The RBA governor in his speech said that 'Over the past year, the next-move-is-up scenarios were more likely than the next-move-is-down scenarios. Today, the possibilities appear to be more evenly balanced'.