US Troops to Cover Mexican Border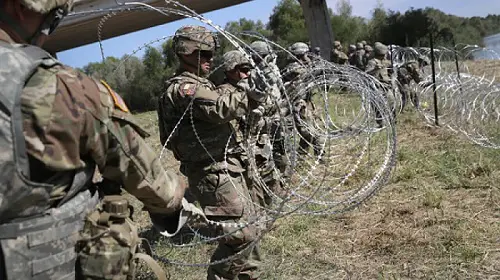 The US-Mexico border dispute has been on the cards ever since American President Donald Trump wanted to raise a physical barrier to prevent the immigrants from entering the country. The Pentagon has now announced that there will be 3,750 troops deployed to the border security in addition to the active personnel already present, which raises the total number of troops to 4,350. This deployment increases the number of personnel on active duty by sevenfold on the Mexican border. Acting Secretary of Defence, Patrick Shanahan approved this arrangement in favor of Trump on January 11, 2019, and stated that this would last for 90 days. This mission included mobile surveillance and putting up 150 miles of concertina wire to cover up the ports of entry. The first approval for deployment of troops to Mexican border happened in October 2018.
President Donald Trump claims that "the border needs a strong physical barrier. It needs a wall." The US Government came to a standstill due to his deadlock demand of $5.7 billion to construct the wall. This led to the Government shutdown for 35 days, the longest in US history. In continuation of this, Trump has stated that shutting down the federal Government again and declaration of National Emergency are the two options he is considering to sort the security issues and prevent the invasion. He believes that, unless the wall is raised, US is subjected to Human traffickers, drugs and gangs and criminals pouring in.
However, Nancy Pelosi, Speaker of the US, drove the President to end the shutdown without adhering to his demands. She had offered $1 billion to the president for the border security services, but not to construct the wall. This led to Trump opposing and accusing his political rival. He stated that "Her decision was bad for the country. Though she knew that the border needed the physical barrier, she refused his demands to win a political point." He also pointed that "she was convinced with open borders and did not mind human trafficking.."
Discussions between the White House, congressional Republicans, and Democrats, about Trump's demand of $5.7 billion for the wall hasn't been favorable to him. Alabama senator, Richard Shelby, a key Republican participant, remarked that "a solution to this border security issue can be sorted only with a Trump-Pelosi truce."
However, the deployment of these active troops has been criticized as a political stunt created by Trump to redeem his promise to protect the US ports of entry during the campaign, by the independent observers. Given this, the secretary of Defence, James Mattis, concluded that "the Pentagon approved this mission solely based on the request from the commissioner of customs and Border security Police and that his department didn't entertain the political stunts."